Activities
Internship: Hiphop Archive and Research Institute (HARI) at Harvard University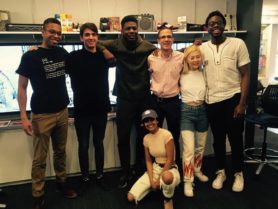 by Bram Hilkens 
Should you ever be mad enough to consider entering an Ivy League university through hiphop, be prepared to repeatedly answer a few questions.
'Is there such a thing as a hiphop archive?'
'Harvard has it?!'
'Can you archive hiphop?'
'Hiphop is that thing with the quick talking fellas, right?'
These questions invite easy responses – 'yes', 'yes', 'yes', and 'among other things' – but are moreover merely a slightly inconvenient side effect to a beautiful experience. I know this, because I interned as a Research Assistent at he Hiphop Archive and Research Institute (HARI) at Harvard University. This is also where I wrote my thesis on representations of Kendrick Lamar and its implications for the transnational perception of hiphop culture.
HARI was founded by professor Marcyliena Morgan in 2002. Professor Morgan decided it was time to understand hiphop as more than a temporary subculture expressed by angry, aggressive, hedonistic, criminal, lewd men. Hiphop as a movement grew out of a minority position, often subjected to severe criticism based on stereotypes and racism, penetrating popular culture at large. The line between hiphop and pop/youth culture has been effectively blurred – rappers call it 'the culture' for a reason.
Then how do we define hiphop? I found that the best way to honor hiphop culture is to not define it at all. It is far too advanced and crystallized ever since its emergence from the Bronx in the early seventies and it continues to indulgence in a certain eclecticism that should speak for itself. Yet, through this lens of negative (racial) stereotyping, it is too often spoken for.
How do we research hiphop when the art should speak for itself? We measure its potential and we challenge its public perceptions. We try to gauge what hiphop culture expresses in lyrics, samples, dance, graffiti, fashion, etc. I hardly thought of the nuances, idiosyncrasies, or scope of hiphop culture before my internship – and I considered myself a connoisseur. In the words of Kendrick on the amazing "Momma": 'I know what I know / And I know it well not to ever forget / Until I realized I didn't know shit / The day I came home.'
HARI provided me with an opportunity to academically engage with something I am passionate about. In the process, I got to meet a ton of interesting people with interesting views on hiphop culture, music, art, politics, you name it. It gave me a chance to temporarily participate in one of the world's top universities, which is simultaneously an elitist, absurd, isolated, educative, and absolutely wonderful experience.
So to anyone who asks you: 'what will cultural history get you?' It will get you to Harvard. It will make you find yourself conceptualizing and understanding the things you love the most. It allows you to make your own plan and develop your own skills. Cultural history is everywhere you decide to uncover it. So why not apply it to your passion?