News
Skills Lab Writing Centre: Writing Coaching for Free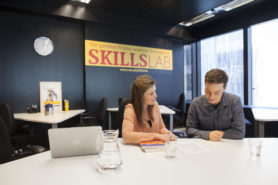 Do you want to discuss the structure of your paper with someone? Do you want to learn strategies to check whether your structure is clear? Do you want to know more about efficient writing processes or about academic writing styles? Make an appointment with one of the writing coaches at the Skills Lab for free.
The Skills Lab Writing Centre offers free writing tutoring. You can discuss your academic writing assignment with a trained student (peer tutor). The tutor can help you with things like finding a more efficient approach, sharpening your core message, writing a well-structured text, or improving your writing style. You can sign up for an appointment, but before you do, read the rest of this page to make sure that the tutoring offered by the Skills Lab Writing Centre is what you're looking for.
Practical information:
For whom? Tutoring is available to all UU students currently working on or about to start an academic writing assignment (like a paper, essay, report, or thesis).
By whom? Writing tutors are UU students with various academic backgrounds who work as student assistants at the Skills Lab. They have been specially trained in peer tutoring for academic writing. The team consists of both Bachelor's and Master's degree students.
One-time only? No, you're welcome to come back several times for help with a single assignment if that's useful for you. You might have different chapters to discuss or questions about multiple aspects (the structure and style of your text, for instance).
How much does it cost? Nothing. Tutoring at the Skills Lab is free of charge.
Which language? In Dutch or English (both the writing assignment and the tutoring).
You can find more detailed information on this website.